First of all, why design a custom leather? Interior designers come to us with custom leather requests for a variety of reasons. Sometimes a leather is out of stock, discontinued or just too expensive. Sometimes they need a more durable version with extra protection for a high-traffic area. Sometimes they have a specific vision for a leather but it doesn't seem to exist.
Whatever your reason may be, creating a custom leather shouldn't be a daunting process. At Jamie Stern, we believe it should be an engaging, hands-on experience that puts the designer in the driver's seat.
Whether you've worked with us before or are exploring the world of custom leather for the very first time, our team of experienced project managers and artisan leather finishers will help you bring your vision to life in the form of a beautiful leather sample (or strike-off). The kicker? This process is complimentary and only takes one week!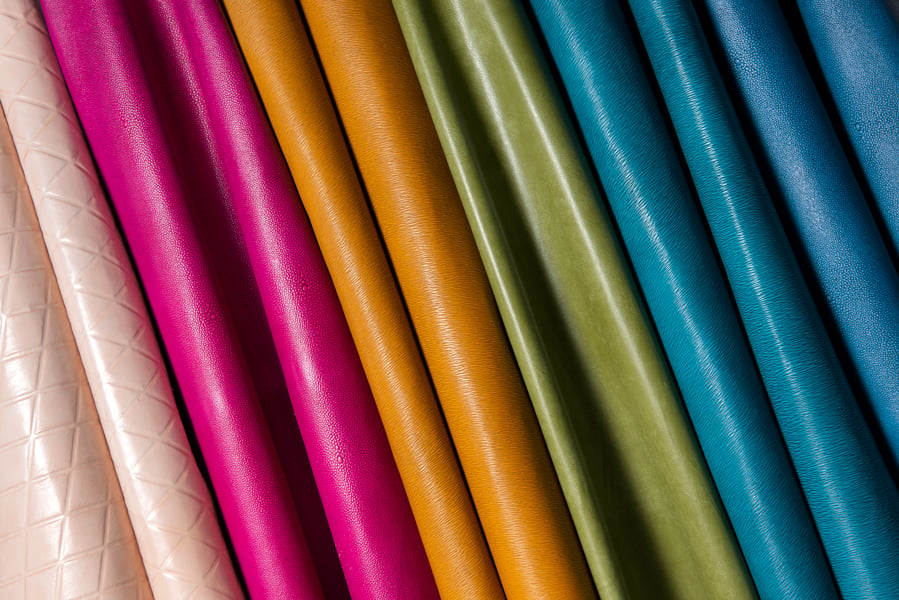 Send Us Your Color Inspiration
To begin the process, send us a physical sample that you would like to see as a leather. This can be a Pantone paint chip, a fabric swatch, an existing leather or even organic material (leaves and dried flowers work fine). With this sample in hand, our finishing team will be able to develop a color match at our domestic leather mill in upstate New York.
Additional tip: If you know the light source the leather will eventually be shown under, share that information with us to further ensure an accurate match!
If you're still trying to finalize a color selection, head over to the
Browse by Color
feature of our website for some inspiration.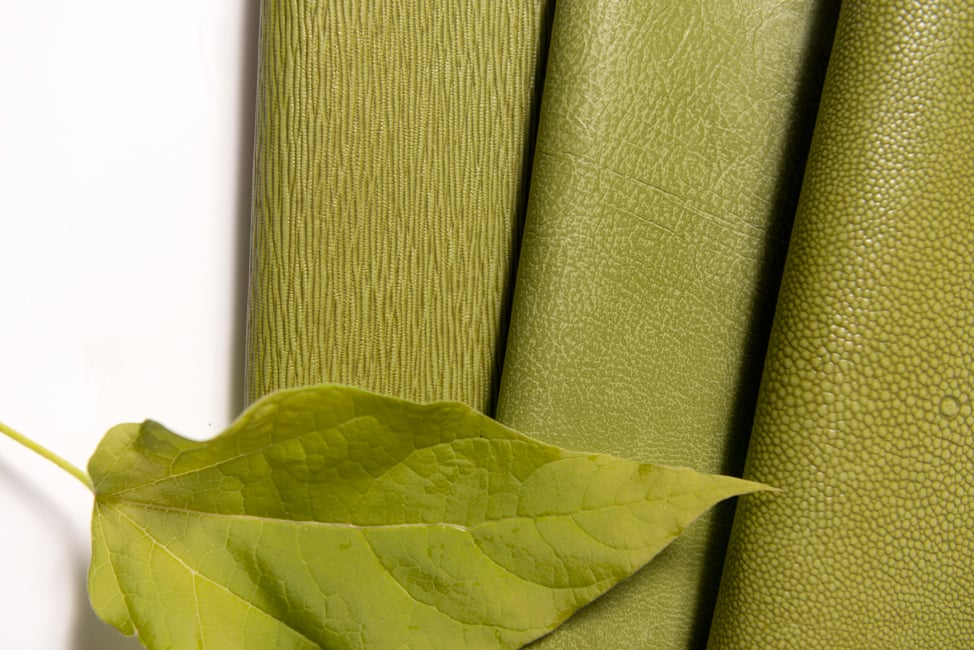 Select Your Finish
This is crucial. Do you want your new custom leather to be protected against scratching, staining and fading in sunlight? Or would you prefer a gentler finish that allows for the hides to breathe, age and develop a sophisticated patina that accentuates the natural beauty of the leather.
If your leather is intended for a high-traffic area where durability and consistency are essential, please share these details with us and we will produce a leather with a robust semi-aniline finish. On the other hand, if you prefer a comfortable, worn-in style and love how leather looks with time and use, this preference serves as valuable information as well. A lighter, less pigmented finish might be your best bet to achieve this classic aesthetic.
Select Your Quality
Full grain and corrected top grain leathers both have distinguishing traits and benefits that need to be considered when designing a custom leather.
With full grain leathers, the hides will be larger, cleaner and produce better yields. These hides also represent the most natural form of leather. They retain their original grain while emphasizing the leather's organic beauty and unique characteristics. Full grain leathers will look truly great when they are first used for upholstery purposes, but will only soften and become more elegant in five, ten- and fifteen-years' time. These leathers cost a little bit more per square foot, but the investment is well worth it as they only improve with time and use.
Corrected top grain leathers have their top layer finely sanded down to remove natural imperfections. Each hide then receives a naturalistic or embossed grain (more on that later) to ensure consistency and uniformity. These leathers are ideal for projects in which the budget is a key factor. These top grain hides are less expensive per square foot while still retaining all the inherent strength and beauty that leather is renowned for.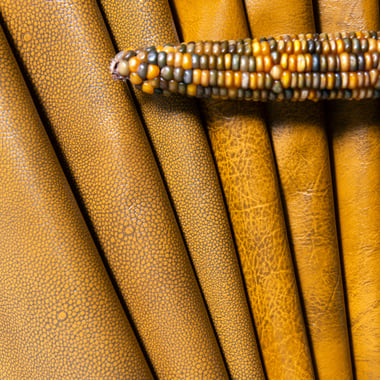 Select Your Grain, Pattern & Final Details
The final steps are possibly the most fun ones: selecting the grain, pattern and style of your leather. Should your leather retain its original grain or would you prefer a printed naturalistic grain? Should the grain be small, moderate or large? Or maybe you'd like an embossed pattern? Should you go with a geometric design or something floral? How about an animal print? The possibilities are endless and they are entirely in your control.
Additional tip: If you don't see a specific pattern or style on our website, send us a sample of it (or even an image) and we're sure to have something to match your inspiration at our domestic leather finishing plant.
Lastly, do you have any requests for aesthetic flourishes or special details? Would you like your leather to feature a matte or high-gloss finish? If your dream leather features two colors, which should be more prominently displayed? Or maybe you're interested in a leather with a luxurious metallic sheen? Nothing is off limits and every look is achievable, so don't be shy…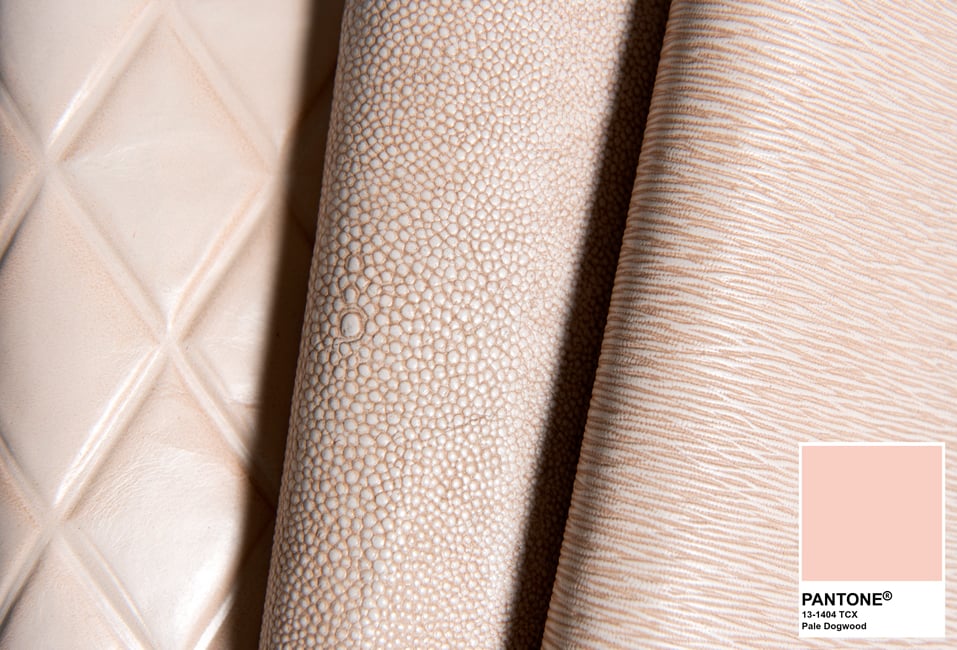 Let's Design a Leather Together
This may seem like a like of information to digest and decisions to make, but we promise, creating a custom leather with Jamie Stern really is simple. If the various steps seem overwhelming, don't worry about them. Forget them. All you need to do is bring your inspiration sample to your Jamie Stern representative and they will walk you through the rest. In one week, you will have a beautiful custom leather in hand. So, what are you waiting for? Let's design a leather together!