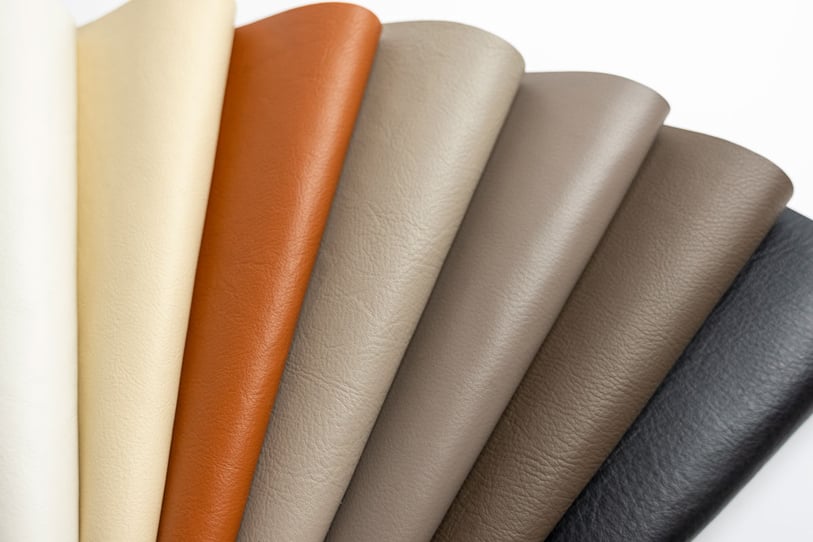 When selecting a leather for upholstering furniture, many designers often base their selection off color and color alone. This may appear as a logical jumping-off point, but this decision can lead to issues down the road. We would like to provide a few pointers to help you select the correct leather for your project. Understanding the following four terms will allow you to fully comprehend the nature of nearly all leather products and enable you to make an informed selection.
Full Grain
The best full grain crusts mostly come from Europe and represent a larger more natural product. In Europe they are open grazed animals that are brought into barns at night and cleaned and cared for. The hides tend to be large and unblemished. This high-quality raw material produces the finest leather in the world. Its organic nature allows full grain leather to "wear in" not out. It ages beautifully over time developing a natural patina.
A full grain leather will look great when it's first upholstered, will look better in five years and finally after ten years will achieve its most beautiful lived in appearance. With age, a full grain leather's unique, lived-in character will fully mature.
Full grain leathers are best suited for high-end residential projects, corporate boardrooms, executive offices and luxury suites.
Top Grain
Top grain crusts come from South America and are generally not as clean as European full grain crusts. They often feature scars, bug bites and brand marks. In order to prepare these hides for upholstery purposes, the top grain is removed below any imperfections. This process also removes some of the natural characteristics of the leather, which is offset by embossing a grain and adding pigment to the hide.
The final product, top grain leather, is a budget-friendly, durable product which will resist scratching and staining, but will not age naturally like a full grain leather. It will look great when it is first upholstered and maintain its appearance in five years, but will begin to show signs of wear after ten years.
Top grain leather is most suitable for corporate reception areas, budget-conscious office spaces, restaurant dining chairs, hospitality public spaces and residential rooms where protection against stains and scratches is desired (the family sofa which is lovingly shared by parents, children and dogs alike).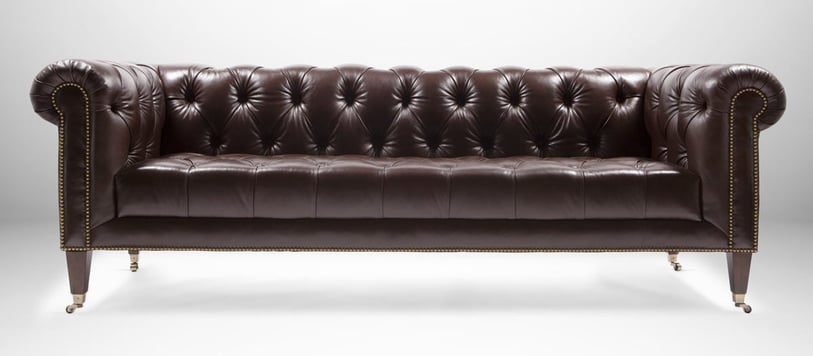 Pure Aniline
Aniline dyeing is a process involving organic, solvent-based dyes which color the crust while leaving the hide's natural surface and characteristics intact. Pure aniline leather is the most basic version of this process as it is simply comprised of raw material and dye. It features significantly less finishing than any other leather goods, resulting in a beautiful naked leather.
Pure aniline leathers will scratch, fade in sunlight, develop a patina and age naturally. The soft hand and rich, unique character of each full grain, pure aniline hide make for a highly desired, sophisticated product.
Semi-Aniline
The production of semi-aniline leathers begins the same way as pure anilines. The major difference between the two processes stems from the introduction of pigment to the top surface of the hide in addition to the aniline dye. This additional pigment will inherently protect the leather from scratching and fading in sunlight.
Semi-aniline finishing can be utilized on either full grain or top grain raw material to ensure the leather retains its original appearance. As a natural product, semi-aniline leather will still gradually develop character, but not nearly to the degree as its pure aniline counterpart.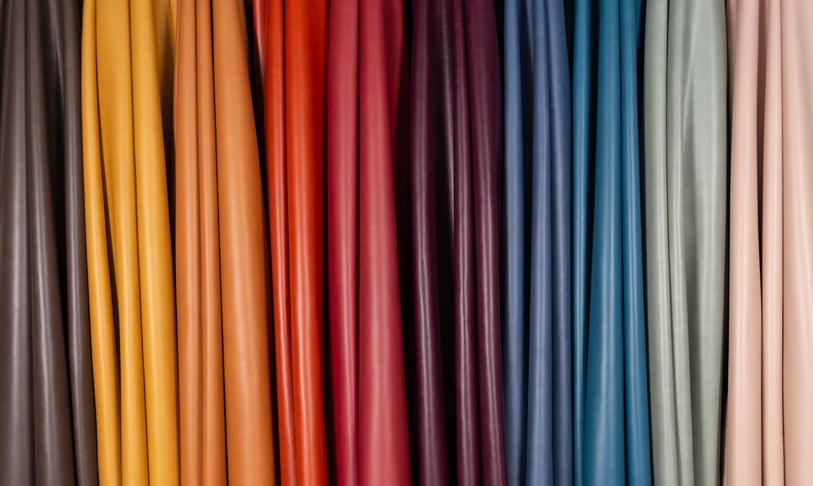 With 755 standard leathers in our collection, Jamie Stern Leather will very likely carry a color and quality you will love. However, if you are unable to find an exact match, our finishing plant in upstate New York can match any color or quality for a one hide-minimum. Whether you opt for a standard or custom leather, Jamie Stern's ultimate goal is to provide designers with the "Freedom to Design!"
Gain IDEC approved credits with a Jamie Stern CEU: Demystifying Leather
This course will focus on the practical information behind truly understanding, identifying and specifying leather. Our highly knowledgeable sales team will provide an in-depth look into leather manufacturing, enabling any interior designer to make educated selections in terms of budget, aesthetics, durability and appropriate end-use applications.
Learn about the environmental sustainability of leather
-Jamie Stern Team
The Jamie Stern Leather Quick Guide was designed to help direct you to the quality of leather that will best suit your project needs.