Located on the campus of the University of Texas at Austin, the Moody Center is a new 15,000+ seat venue that hosts a variety of sports, entertainment and family events. The stadium is home to both the women's and men's basketball teams and attracts top acts from every popular genre of music.
Working alongside Gensler Austin and the Houston-based McCoy Rockford, Jamie Stern manufactured a wide array of furniture, carpet, fabric and leather for various spaces of the arena. Both standard selections from Jamie Stern's vast catalogue as well as wholly custom designs were specified for this large project, all of which needed to be completed and on site in time for the Moody Center's Grand Opening Celebration, a concert featuring George Strait and Willie Nelson.
In total some 200 pieces of furniture were domestically manufactured to furnish guest suites, public spaces, backstage areas and more to ensure that Longhorns, visitors, crew members and performers would be comfortable wherever they found themselves.
Some of the standard furniture pieces specified were modified versions of popular banquette designs including 5 Alicia Banquettes, 12 Chambers Banquettes and 20 Arlo Banquettes. To ensure that these uniquely sized units properly fit their niches, Jamie Stern was also tasked with handling pre-production field measurements and final installations for many of these pieces.

The JS furniture team was also tasked with the custom manufacturing of 24 lounge chairs, 10 sofas, 20 banquettes, 66 love seats and 40 ottomans. These wholly original, bespoke pieces can be found throughout both the public spaces as well as private and backstage areas.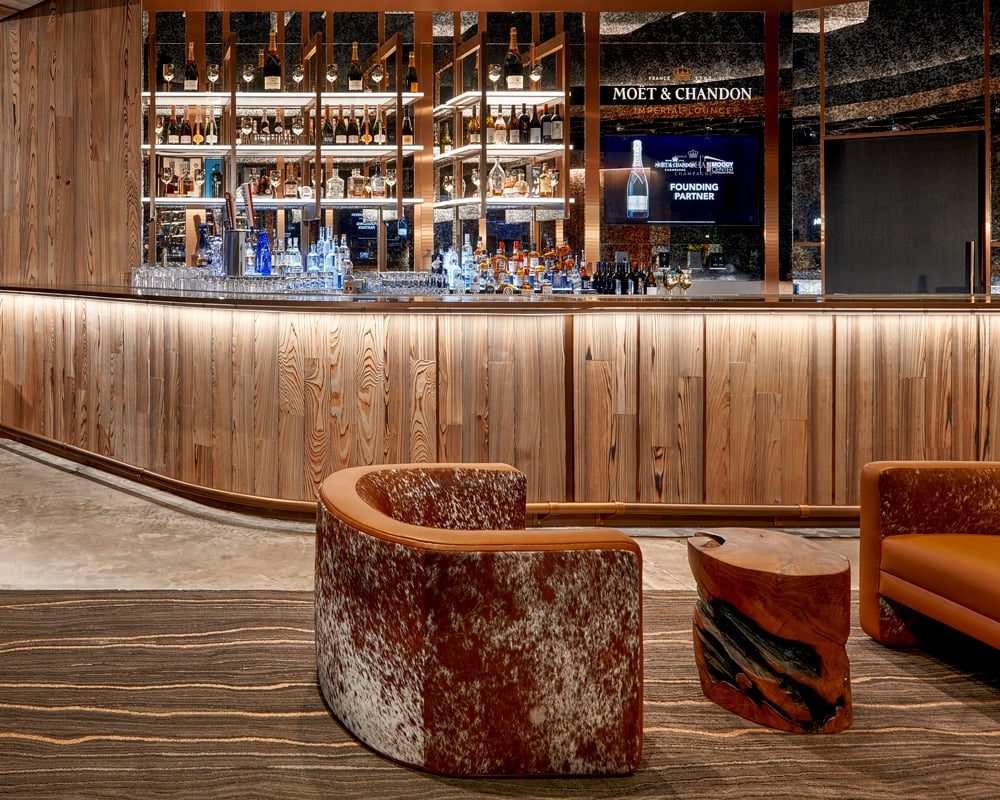 Over 30,000 square feet of Jamie Stern leathers were used to upholster this wide-ranging group of furniture. The leathers specified were as diverse and eye-catching as the furniture they upholstered. These included true classics like Milano Whiskey and Fast & Furious Talgo Taupe, a value-engineered top grain version of our Trento Castello Brown and the all-new embossed Honeycomb Toffee. Additionally, a few thousand yards of Jamie Stern fabrics were utilized throughout the project including Celeste Spice Jar, Celeste Morning Joe and Calgary Old West.

Dozens of Hair-on-Hide rugs were also used to add a rugged touch to the private viewing boxes and suites. The unrefined shapes and unique characteristics of these natural rugs beautifully juxtapose the precise details and vertical channeling of the curved and L-shaped banquettes Jamie Stern produced for these very same spaces.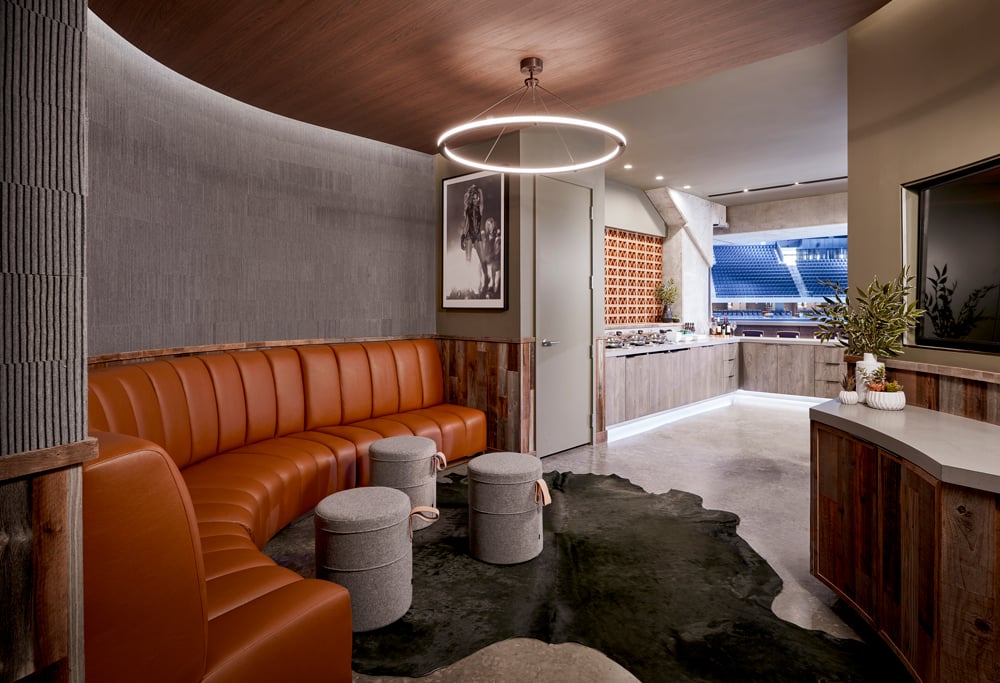 Speaking of rugs, Jamie Stern manufactured a series of area rugs for the Moody Center's board rooms and the famed porch suites. These included standards like Jamul, a hand-loomed flatweave of which 10 were produced, as well as custom hand-tufted numbers, all of which were made with 100% New Zealand wool. The combination of artisanal production techniques and natural fibers ensures that every rug will feature unique, organic characteristics of their very own.
So, if you find yourself at the Moody Center in Austin for a basketball game or a concert, take a look around. There's a good chance that some Jamie Stern furniture upholstered in our leathers and fabrics, wool area rugs or Hair-on-Hide rugs will be within your line of vision. Hook 'em!