From February 1st to March 5th, we called on all interior designers in the United States and Canada to submit an original lounge chair design for the chance to win a fully upholstered prototype. We had run similar competitions the past three years with our ever-growing Rug Design Contest and thought it might be fun to expand this concept, the end result being the Inaugural Jamie Stern Furniture Design Contest!
In order to inspire entries and not limit creativity, we encouraged submissions to come in that were 3-D rendered, created in AutoCAD or even sketched with a pen. However any individual designer felt like expressing themselves, that's what we wanted to see. After a month of competition, two regional Grand Prize Winners (from the Western & Eastern United States/Canada) were to be selected by our esteemed panel of judges, each of whom is a senior interior designer in their own right.

As a Director with Gettys Interiors of Chicago, Matthew Swope delivers beautiful environments for hospitality clients, managing the project process from concept to completion with attentive client service and commitment to great design.
As Director of Design at HVS Design of Washington, DC, Christine Shanahan oversees and manages the design team as well as creates exceptional designs for the firms' hospitality projects.
Tom Tessier is a Principal at Revel Architecture of San Francisco, whose diverse career experience over the past two decades spans commercial workplace, hospitality, and high-end residential design for some of the largest and most well-known companies in technology, entertainment, and gaming.
In total, the contest brought in more than 165 entries submitted by unbelievably talented designers and interior architects. Some of the designs were tasteful updates on all-time classics while others were true originals bursting with unique personality. All of us at Jamie Stern Furniture found ourselves in awe of the talent on display in each and every one of the lounge chair designs.
It would have been impossible for us to select favorites, which is where our judges came in. After two weeks of deliberation, they were able to narrow it down to two Grand Prize Winners.
From the Eastern Division, the judges selected "The Companion Chair" by Anthony Milano of New York City's Parts and Labor Design.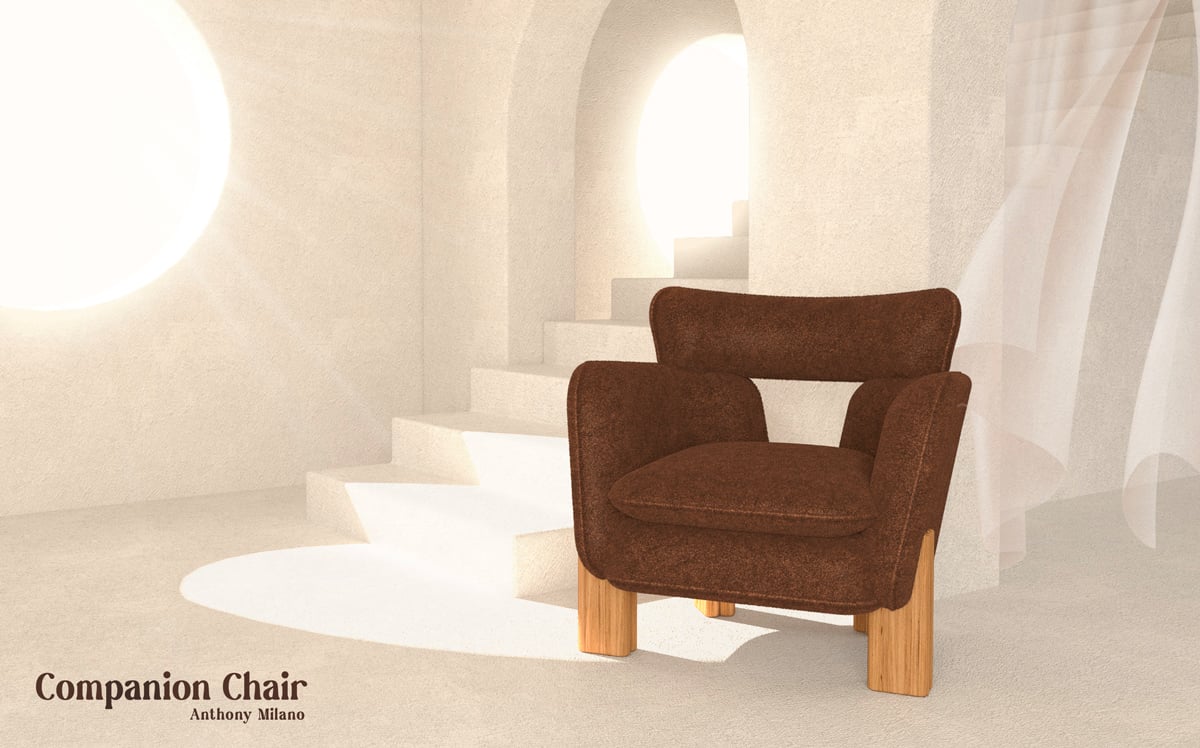 "The Companion Chair is a unique piece of furniture that seamlessly blends vintage style with modern details. Its plush design and supportive structure make it the perfect spot for relaxing and unwinding after a long day. The chair's vintage silhouette is a nod to classic forms, featuring elegant curves and timeless lines that evoke a sense of nostalgia and comfort. This is complemented by the modern details of the open back and round geometric wood legs." – Anthony Milano on his winning design

From the Western Division, the judges selected the lounge chair design by Denise Gatica of Dallas' Ink + Oro.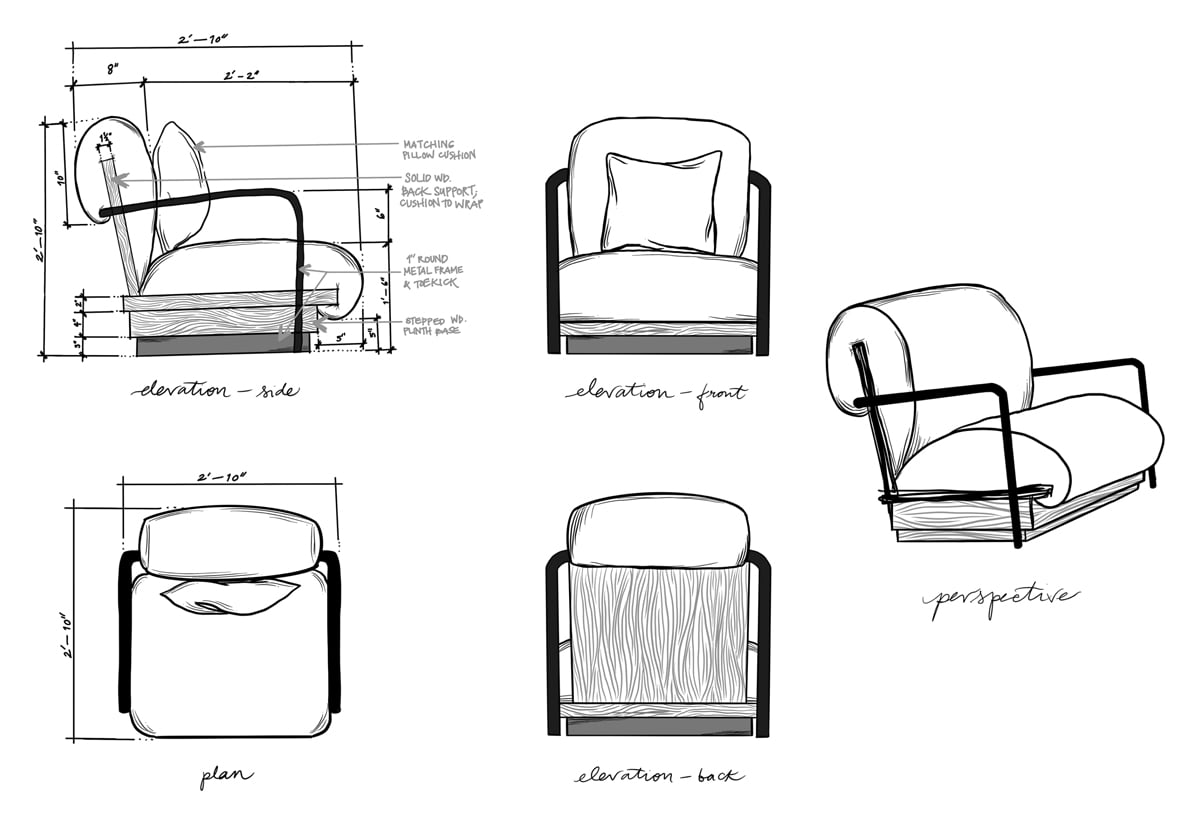 "The intent was to create something clean, yet inviting; Something with presence and dainty details. I see this in a nubby fabric with a plate metal arm, and a light rift cut oak veneer." – Denise Gatica on her winning design

Both of these inspiring designs are already in the early stages of production and should be completed and shipped to their designers in three months' time, fully upholstered in beautiful Jamie Stern fabrics and leathers.
Congratulations to both of our Grand Prizes Winners! Your designs are amazing and we can't wait to see the fully upholstered prototypes. We would also like to thank Sarah Doriani for once again contributing wonderful illustrations to our contest. Lastly, we would like to extend a sincere thank you to every designer who participated and submitted a lounge chair concept and made the Inaugural Jamie Stern Furniture Design Contest so much fun!
Keep an eye out for our 4th Annual Rug Design Contest. It's always a good time and you could win a custom wool rug of your very own design!