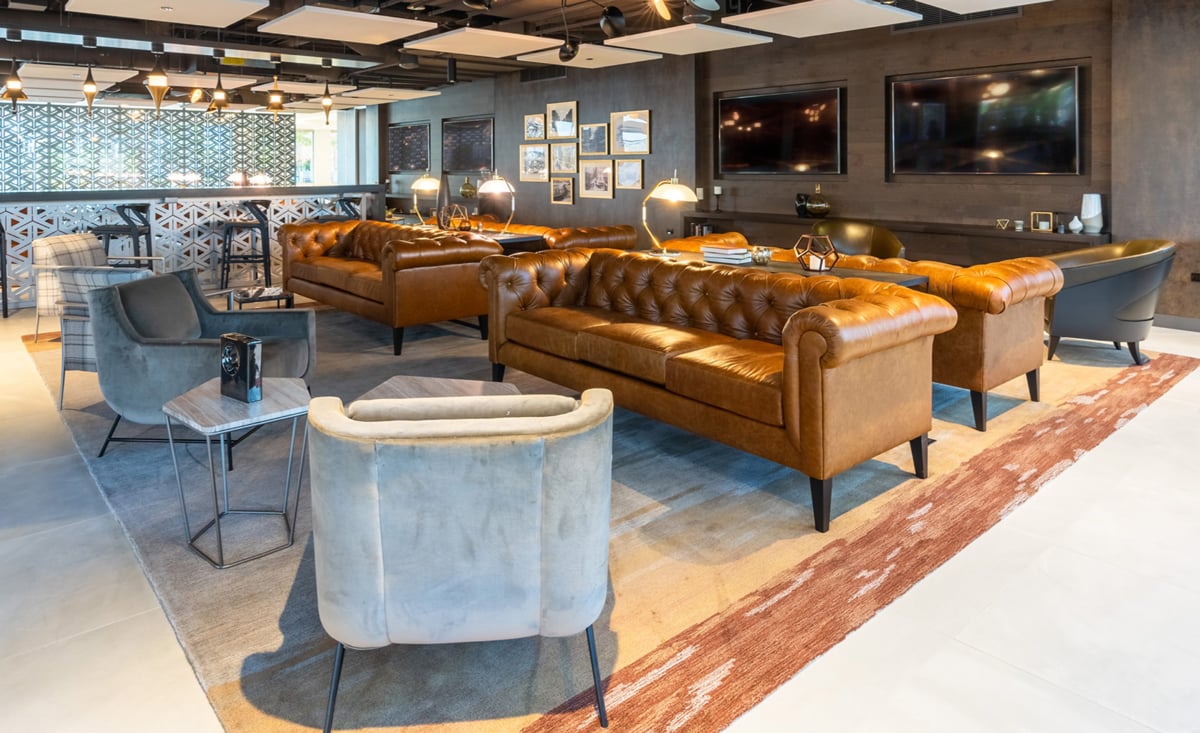 At Jamie Stern, we strive to facilitate the design process by enabling absolute creative freedom and viewing all of our clients as true collaborators. Whether they are interested in standard or custom products, specifying furniture, carpet or leather or are coming to us with a large or small project, we pride ourselves on working closely with designers and architects to ensure that specifying their design materials is not only seamless and efficient, but also engaging and fun!
We'd like to believe these were some of the considerations which led the Chicago-based Wright Heerema Architects to team up with us at the start of their Presidents Plaza project. The designing of a brand-new luxury corporate space in the heart of the Windy City was an exciting opportunity which allowed the Jamie Stern team to provide a wide array of our signature products from standard Chesterfield-style sofas and custom banquettes to large quantities of aniline-dyed leather and bespoke wool area rugs.
WHA recognized they would need a great deal of standard and custom furniture, carpet and leather for many of the spaces in Presidents Plaza including the Loop Lounge, City Line Café, lobby areas and other high-traffic amenity spaces. By specifying many of their design materials from the same source, Wright Heerema was able to maintain a close eye on the project's design decisions, price points and lead times, ensuring that the project was completed to the firm's exact specifications without any hitches.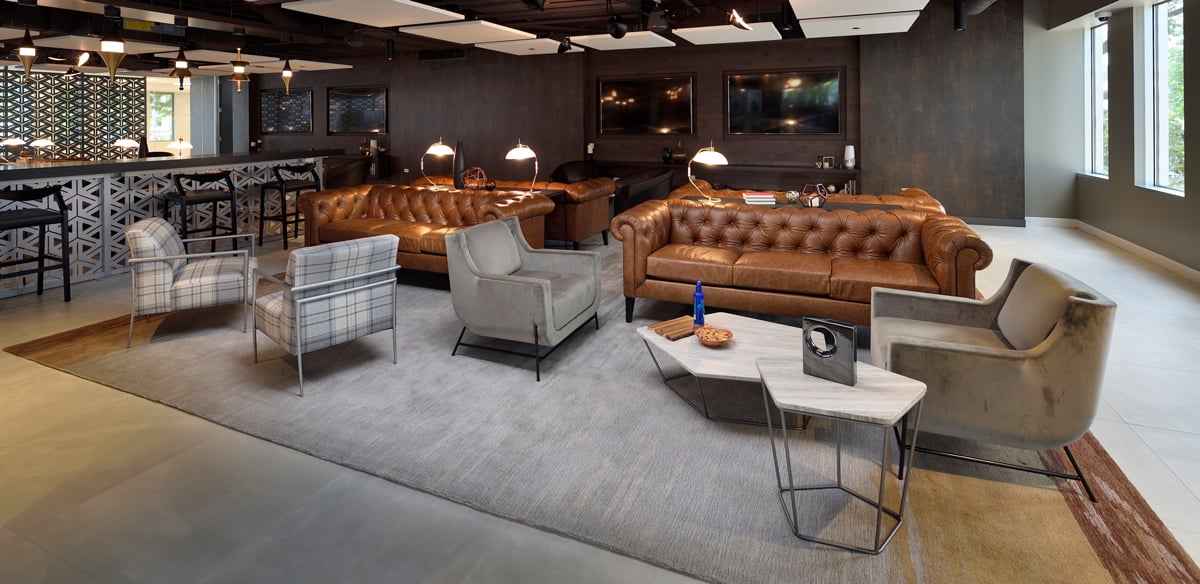 To start, eight of Jamie Stern's classic Baker Street Sofas were specified for the Loop Lounge. These timeless pieces were upholstered in a custom Antiquity leather based on our Verona quality's Amaro colorway. Prior to the placement of the order, the WHA design team received a complimentary strike off of this custom leather creation to guarantee that the product conformed with their exact design intent. The strike off was completed in less than a week, approved and led to over 3,000 square feet of the leather being specified for the Baker Street Sofas.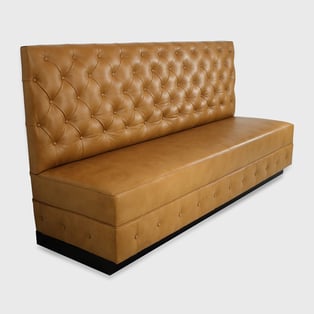 Additionally, two custom sized Delmore Banquettes, measuring 21' and 27', were produced for the City Line Café area. These elegant banquettes were precisely designed to fit within two pre-existing niches and were also customized to feature electrical units in their upholstered aprons.
By integrating the Jamie Stern furniture division's expert craftsmanship and unparalleled lead times with the versatile custom capabilities of our domestic leather mill, Wright Heerema was able to complete the Loop Lounge and City Line Café portions of Presidents Plaza within their budget and on time without sacrificing any creative control.
The Baker Street Sofas, Delmore Banquettes and custom leather were not the only items Jamie Stern contributed to the project. As we like to say, what's a corporate public space without an all-wool area rug? Wright Heerema must have agreed with this sentiment when they designed a gorgeous 20' x 24' custom hand-tufted area rug featuring eight distinct colors, 100% New Zealand wool and a loop pile construction with a heavy tip shear for the space. As the rug was made exclusively with natural, sustainable fibers, it will remain vibrant and beautiful for years to come. The fact that natural fiber rugs are easy to clean and maintain certainly didn't hurt either!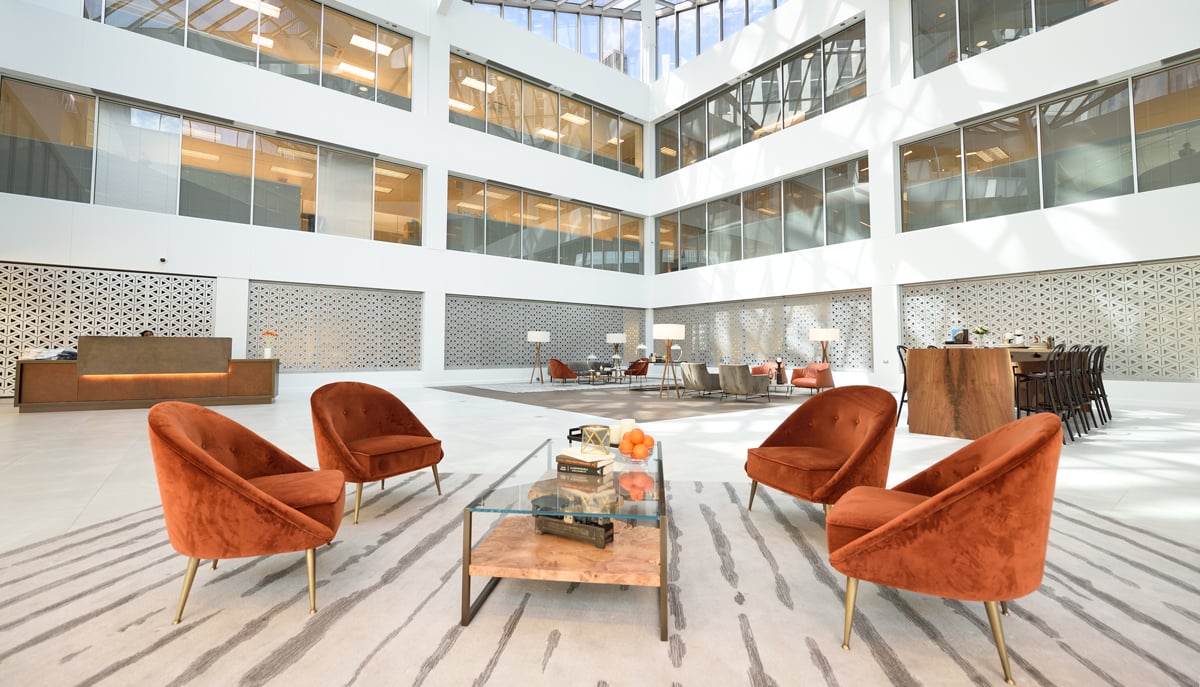 In total, seven other custom rugs of varying designs, sizes and applications were created for the Loop Lounge, lobby spaces and other public areas, creating a greater sense of comfort and beauty throughout Presidents Plaza.

Working with Wright Heerema Architects on this project was an ideal experience for everyone on the Jamie Stern team. We were able to collaborate with talented designers on a stunning corporate space, demonstrate our standard and custom capabilities and provide design products from all three of our esteemed divisions. We are always looking forward to our next opportunity to exhibit our exceptional quality, reliable service and unprecedented flexibility!