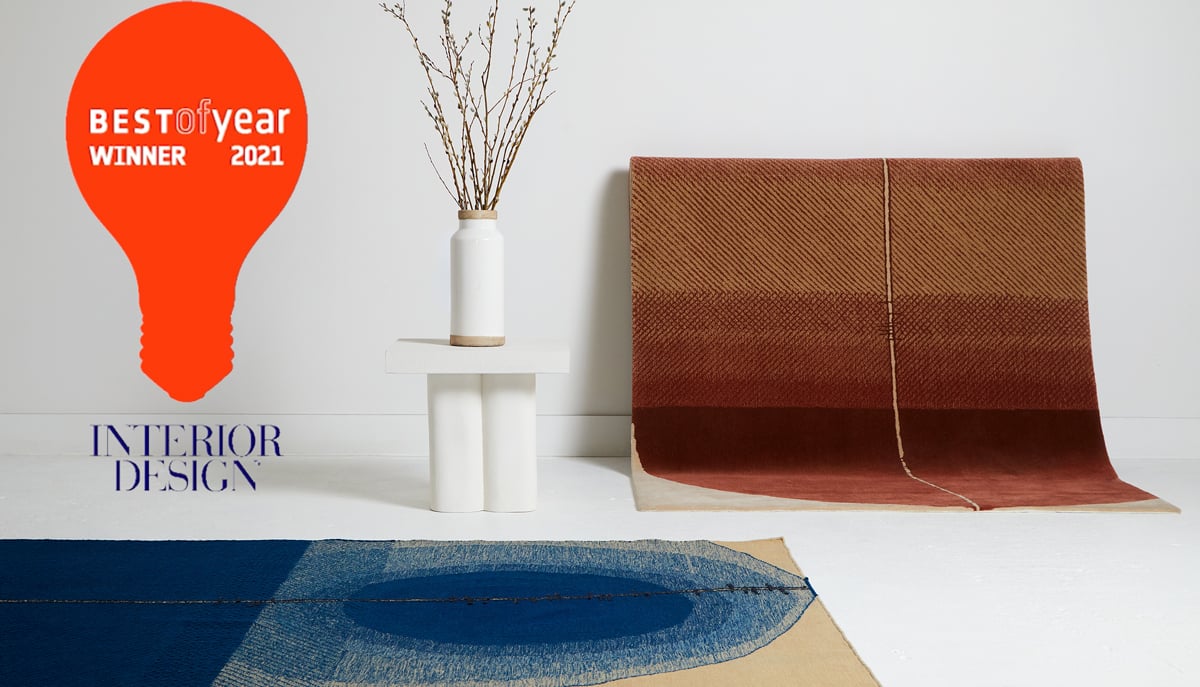 2021 was an exciting year for everyone at Jamie Stern Furniture, Carpet & Leather. In many ways, it was our best year ever. We launched a number of incredible new products, collaborated with some wonderfully talented designers on unforgettable collections, and contributed to countless amazing projects in the hospitality, corporate and residential markets.
STRIA Collection
One of the true highlights of this year was working with our friends at Dutch East Design on the STRIA Collection. STRIA consists of natural fiber rugs in both hand-tufted and hand-loomed constructions in five different patterns, all crafted by artisan weavers.
This new collection seeks to break ground by introducing techniques like the Panja Dhurrie weft-faced plain weave, experiment with decorative elements such as overstitching and push boundaries with regard to color gradation.
We are extraordinarily proud to announce that The STRIA Collection won Interior Design Magazine's Best of Year Award a month after its launch. Learn more and see the whole collection here.
BDNY
We greatly missed BDNY in 2020, so getting to throw our annual Showroom Event was highly anticipated by our whole team. This year, the event doubled as an opportunity to launch the STRIA Collection. Guests attending the two-day party at our midtown Manhattan showroom were able to come and enjoy mimosas, Bloody Marys and a New York-style breakfast while admiring all ten STRIA rugs.
On Sunday, the designer of the collection, Dutch East Design's own Larah Moravek was in attendance to answer any questions and speak on her influences and inspirations. Lastly, every designer in attendance had the chance to enter our STRIA Rug Giveaway by posing in front of the collection and posting the image to Instagram. The winning designer selected the hand-tufted version of Frame of Mind, seen below.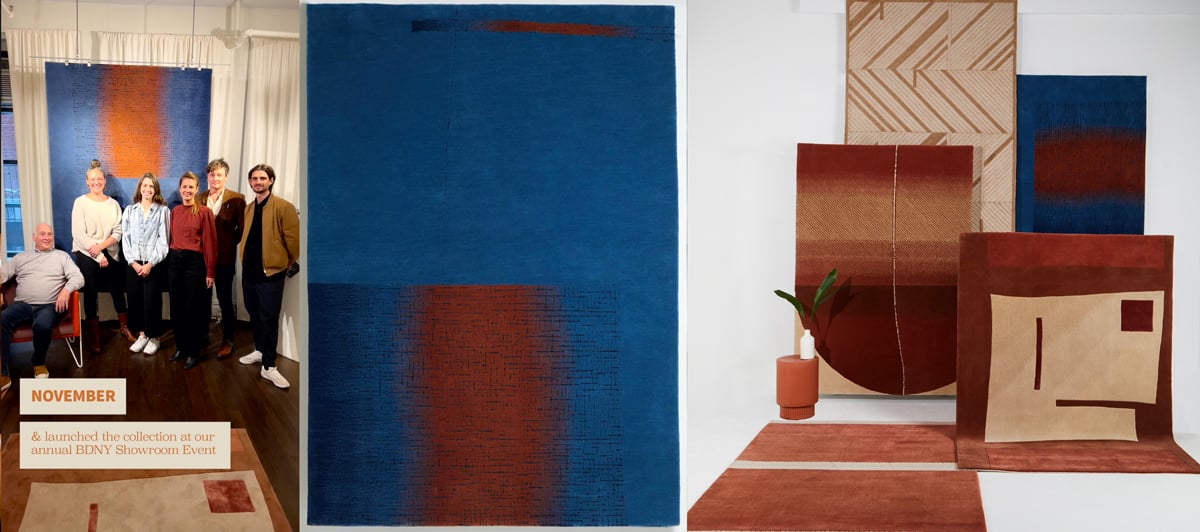 2nd Annual Rug Design Contest
The launch of the STRIA Collection wasn't the only notable rug event of 2021. Back in April, we kicked off the 2nd Annual Jamie Stern Rug Design Contest. For over a month, interior designers and architects were encouraged to submit an original design that demonstrated their creativity, personality and unique style for the chance to win a handmade wool rug.
In total, we received nearly 200 awe-inspiring entries from designers all over the country. After a great deal of deliberation, our esteemed panel of judges made their decision, selecting three Runners-Up and one Grand Prize Winner from the Northeast, Southeast, Midwest and Western regions. Below are the four Grand Prize-winning designs.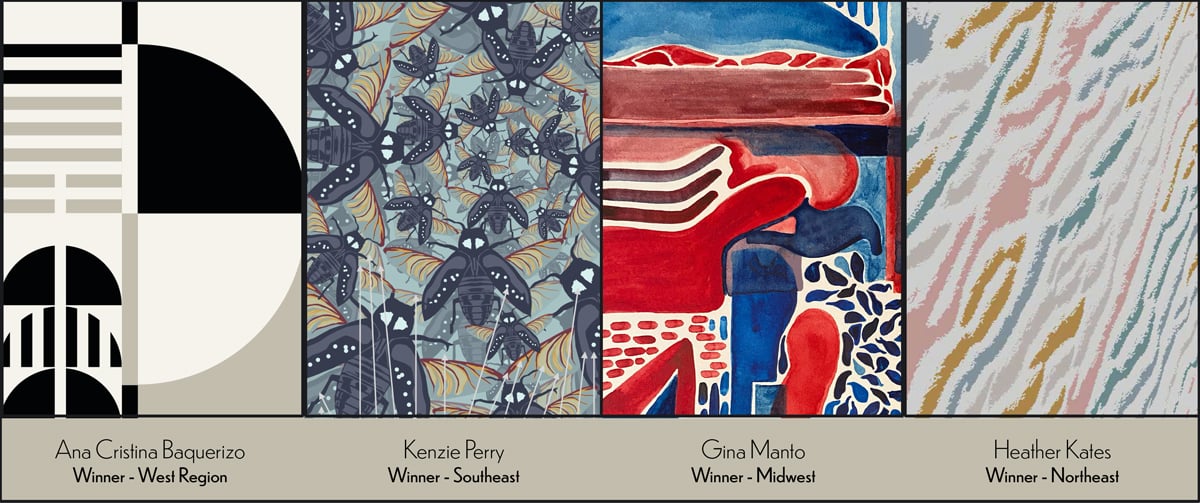 New Furniture Collections
2021 also saw the launch of two new furniture collections, the TwentyONE Collection and the Moshari Collection.
The TwentyONE Collection is a series of contemporary interpretations of classic furniture designs from the 20th Century. The featured pieces include the Marcel Sofa and Lounge Chair, the Eileen Sofa and Lounge Chair and the Arne Settee, all of which seek to combine absolute comfort with precise craftsmanship while remaining equally suited for hospitality, corporate and residential applications alike.
Studio Moshari's namesake collection is a versatile selection of bespoke furniture rooted in playful, modern takes on formerly traditional pieces. The collection was developed so that each piece works together, creating a fully realized holistic design scheme as well as allowing for individual pieces to stand on their own.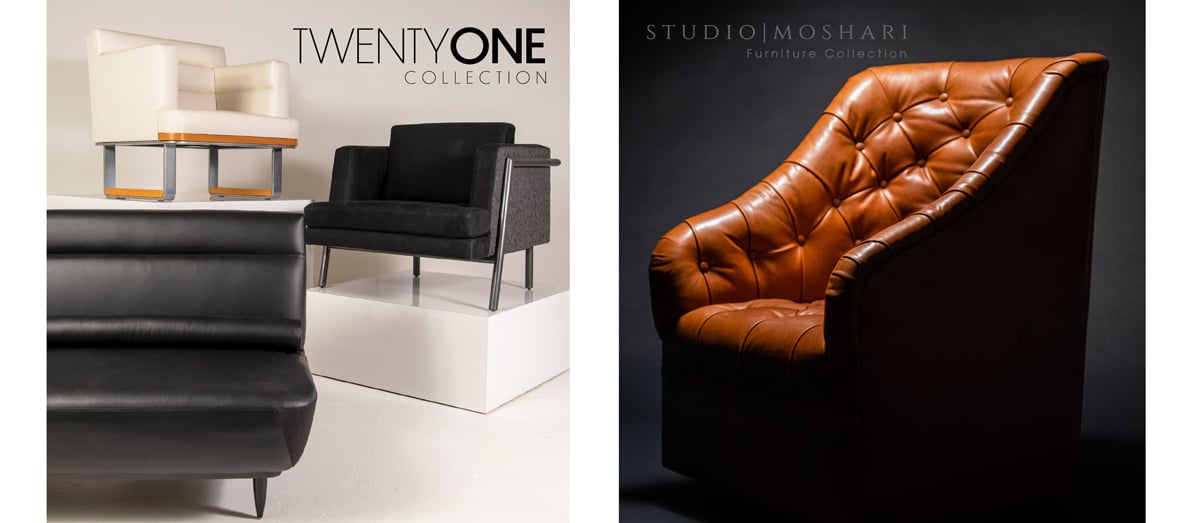 New Leather Introductions
Our leather division certainly did not slow down in 2021 either. We introduced a new in-stock quality, Veneto, as well as new vibrant colors of two of our more popular leathers, Metro and Caribbean Spice.
The all-new Veneto is a luxurious pure aniline top grain leather featuring a sophisticated two-tone finish. It is produced on European raw material averaging 55 square feet per hide and acquires its irresistibly smooth texture during its finishing process when waxes and oils are applied directly to the hide. This process fills in the leather's natural pores, creating a rich, complex leather that will look beautiful from day one, but continue to breathe, age and develop a patina with time and use.
Looking for a specific color of Veneto, Metro, Caribbean Spice or any of our other upholstery leather qualities? Try the Browse by Color tool on our website!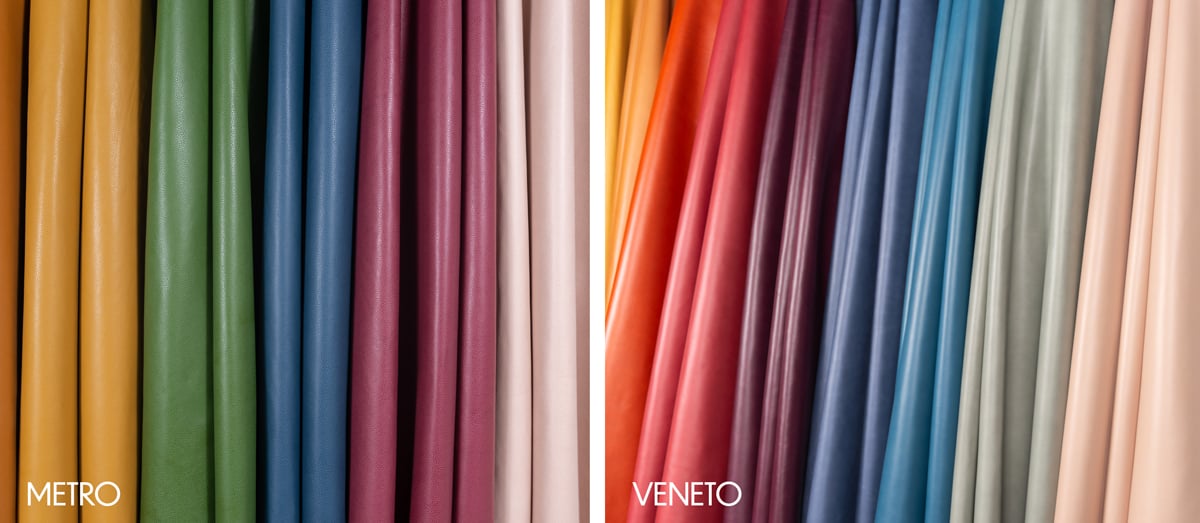 New Textile Line
Lastly, we are ecstatic to announce the launch of our all-new textile line! This ever-growing selection is currently comprised of 30 fabric qualities ranging from high-end boutique fabrics to durable performance fabrics in a wide range of colors. These options are suitable for hospitality, corporate and residential projects alike.
Through all of our product lines, we have always championed sustainability whenever possible and our new textile line is no exception. Our extensive boutique fabrics are largely produced with natural fibers, featuring everything from mohair and linen to cotton and wool.
We are planning a wide expansion of these textile offerings in 2022, so stay tuned for further updates!
Looking Forward
Please do not hesitate to reach out if you have questions or requests about any of the above mentioned products or events. As we head into 2022, we look forward to working on more inspired projects with our exceptionally talented partners in the interior design and architecture fields. We wish each and every one of you peace, prosperity and health in the New Year!